Newsarchive 4
Updates in Photo3
Two (of 4) open places under the photo3 button are now filled.
One with the use of the desmo-principle in two other applications than in ICE (Internal Combustion Engines).
The other page is filled with the subject of alternative valve adjustment.

Desmo- or Ducatichurris
What? Churris? Yes of course also in the early (Ducati) days Churris (hot sexy looking women) were photographed on or beside a new bike for commercial purposes. So this phenomenon was not new to me, but only the word-combination and of course the fact that on a single website: http://www.ducatistas.com/galeria/displayimage.php?album=15&pos=1. Over 80 Churris-pics are published. I wonder if this message is going to boom the visitor statistics.
Chevrolet Desmo (patent)
Someone directed me (12-05-2009) to two very old US desmopatents unknown to me:
US 1309339 (Reynolds), but more interesting: US 1238263 applicant the famous Louis Chevrolet, who proved to be the first inventor of a Group 8A system.
I had to change the patents article. Chevrolet (1916) took over the place of Sewell (1920).

Navigation again
A good way to start navigating "Desmodromology" is with the "Classification in Text" button: I just added dedicated links to the different desmo-groups like: Link to the pics of the models (photo pages) Link to the pages of produced systems (sytems pages) Link to the patent pages (only patents of ever produced systems) Of course only as far as available. When there is no link there is no page (information) to link to!
Navigation
Visitors made me aware of the fact that they often only after some time found out how much information there actually is on "Desmodromology".
Depending on how someone arrives on the various pages and their intention to look under other buttons (esp. "Systems") also, visitors are more or less enthousiastic.
To improve this condition I decided to add dedicated links from the System pages to the various pics of the models and to the patents.
You'd better use the back-button in your browser now. The back-LINK in the picture pages or patent pages resp. brings you to the Photo pages (30 tinies) or the Patentlisting. I hope esp. new visitors will benefit from these changes and won't get lost on my site.
Ducati Second place in total Ranking Moto GP 2008

Valentino Rossi (Yamaha) World Champion with 373 points.
Casey Stoner (Ducati Marlboro Team) second with 280 points (8 x Poll position and 6 x GP-winner)
Toni Elias and Sylvain Guintoli both Ducati Alice Team with resp. 92 and 67 points.
Marco Melandri (Ducati Marlboro Team) on place 17 with only 51 points.

OSCA
In NL a desmo OSCA is subject to a restauration project. I was invited to make pictures of the head and desmo parts.
My Italian agent engineer Andrea Ridolfi made some beautiful static 3D animations.
Bill Todd from the UK produced some fine animation gifs. One of these replaced that old boring gif with the wobbly rockers on the intro page.

Treen Desmo
According to Mr. Charles Treen the Treen Desmo (Spring 2008) was cleaned by the Sammy Miller Museum crew and then exhibited to the public.
Packer Special Desmo Board Racer
Added to "Systems" a newly found desmo-motorcycle.

BMW F 650 Desmo system by Roland Brüdersdorf
"Desmo Roland" used a BMW F 650 head to house his newly designed desmo-invention.
It should be a system never dreamed up before and likewise not fitting in my desmo-classification.
First added to "Systems", but without autopsy and Brüdersdorf completely holding back any insight information, I moved it to "Mysteries".
DesmoHarley - Italian American V-Twin Completed
http://thekneeslider.com/desmoharley-italian-american-v-twin-completed/
Amalgamated Desmo production car
Mr. Juan Meoniz from Argentina came out of the blue with some scans from very old bookpages (1926) on the subject of a desmodromic production car engine. More info. under "Systems"
Takegawa Desmo-Honda
New item added to "Systems" = Takegawa Desmo-Honda with a miniaturization (125/90 cc) of the old type Ducati 4-valve system (Bordi).

Schneider (Michaux)

Schneider page updated and the right picture of the 1914 type desmo-car added.

"DUCATI Campioni Del Mondo in 2007"
Casey Stoner on his Ducati Desmosedici GP07 has won the MotoGP World Championship in Japan on the Motegi Circuit Sunday, September 23 2007. Making not "only" Ducati as such a great winner, but also making the Desmodromic Principle and the specific Ducati embodiment a big success! while scoring on the highest ranks of competition.
"Pimp your site"
To give some more colour and enhance authenticity, I added brand logo's to the systems pages.
When there are manufacturers who don't like to see their logo on "Desmodromology", please tell and I will remove the picture(s) instantly.
Daimler-Benz
In the "Verkehrsmuseum" (Traffic Museum) in Dresden Germany (summer 2007) I was surprisingly confronted with an example of the Daimler-Benz very first V-twin engine.
I took some pictures and added them to the Daimler page under "Systems".
Animations
New button added to the choice menu inspired by the work of Seyhan http://www.mekanizmalar.com/desmodromics.html
this is to show the difference between regular camshaft and desmo system:
http://www.mekanizmalar.com/camshaft.html
Stefan Battlogg
the patentholder of some fine and promising inventions:
WO 0112958; WO 0112959; WO 03/083269 A1 EP 1624161 and many other numbers on variants esp. on the valve - babybelt and valve-chain connections. http://www.inventus.at/index.html finally did send me the promised modell:Battlogg Modell
I also decided to make some of his embodyments in own regie (see pic of several parts that came along with the beautiful modell).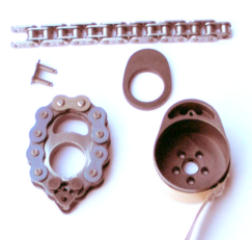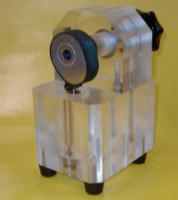 DESMOTRONIC (Pics and film used with permission)
Duesenberg
The mystery of the supposed Duesenberg desmo system is solved in the beginning of this new year 2007! See "Systems" for more information and pics.

A patent has been granted [DE 102005034177 B3] for the Otto Lantenhammer / Monika Sedlbauer Desmosystem (see "Lantenhammer" under "systems"). According to me this patent has no value at all, since this very principle is known for many years and patented before. I hope no-one with intentions to produce this kind of system feels obstructed by this "protecting act".

The Inventors mentioned on this page [Brüdersdorf and Battlogg] both find it hard to get their inventions recognized by the industry.
Also the patenting of inventions still is a torture for them, like it was in Charles Dickens time in England.
To comfort them and everyone in the same course, I post this link to Dickens short story "A Poor Man's Tale of a Patent": http://www.readbookonline.net/readOnLine/2530/

When composing "Desmodromology", especially the "Systems" part, I was quite in a hurry and I didn't bother much about sources of text and pics.
I decided to do this work over and add the sources as far as I can reconstruct the matter (Start September the first 2006).
Doing so I dived into the enormous amount of correspondence and I found letters with very interesting content. Perhaps it is nice for the visitors of Desmodromology to get some idea what it takes to painstakingly search for the information one need to write a book and to add content to this site.

Checking books on Desmodromics in: http://books.google.com I found a new desmo-system used by David Downer, a racer in the sixties on his Rudge 250.
Colin Seeley in: "Colin Seeley : Racer .... and the rest" p. 89. Redline Books ISBN 0954435710 (2007).
See also under "Systems".

Joe Potts Desmo Cambox
Shaun and Ben Waters wrote me a story and enclosed a few images (see pics) of the Joe Potts desmo cambox. This actual cambox was made in 1957 and is of a 3 spindle design, requiring the use of both opening and closing rockers to actuate the valves. It appears that both rockers would share a common pivot, the cams being removed from the cambox via the large threaded bearing retaining bosses. Unfortunately we do not have the rockers for the Potts desmo, but have confirmation that they were made. It is our hope, that one day we can make the design run for all to see and hear! When someone in the world seems to know this story and can be of any help, please do not hesitate to contact me or Shaun and Ben Waters resp.:
s.waters@sheffield.ac.uk
joepotts7@yahoo.co.uk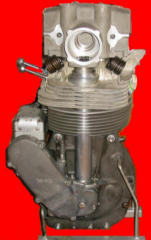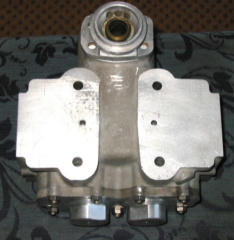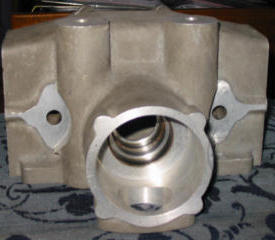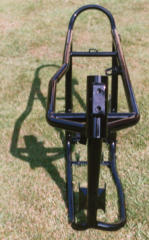 Roland Brüdersdorf (Germany 1945) lives already more than 40 years in Sweden.
He contacted me by E-mail, helped by a friend, since he unfortunately is not acquainted to computers al all.
When I visited him july 2006 (see pic of the Stenaline Express crossing from Friedrichshavn in Denmark to Götheborg), he showed me several of his inventions (not only desmo).
He allowed me to photograph an older type of desmo (see "systems" as well).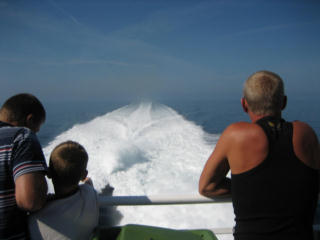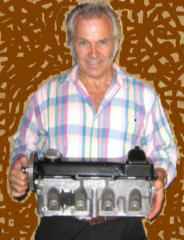 I disabled the "Nedstat Counter" summer 2011, because of disturbing advertisements.
Spring 2012 I started to use Flashcounter for statistics.
For more: choose "Previous News" in the menu-frame.
Last update: May 15, 2012