Newsarchive 1
The Desmoprinciple proved to be very successful in the Moto GP, the highest level of competition. Ducati's debut year with the Marlboro Ducati Desmosedici was very impressive:
177 GP points for Loris Capirossi (4th. place) and Troy Bayliss (6th.) with 128 points. Six podium places for Capirossi (including the victory in Catalunya) and 3 for Bayliss. Ducati with 225 points finishing in second place in the race for the Constructors price. The Ducati Marlboro Team with 305 points on place three. Chapeau!!! The Desmo-system undoubtedly contributing to this success and never causing any trouble. Great!

My first internet (desmo)search - after some months of hard work in the house - was dramatically successful.
I found out that the well-known Tony Foale designed a desmo-head for his 500 Velocette racer in 1964, when he was only about 19/20 years of age. The university project was just the design, but he made one example for his own bike. Unfortunately at that time he was very bad at taking photos and keeping records and he is not sure whether or not the very desmo-head still exists somewhere. He promised to send me the 40 pages of his project and some drawings as well. More (= a page in "systems) to follow. See also: http://www.bottpower.com/e-foale1.html

Spring was full of desmo-excitement.
Two mysteries were solved:
Charles treen E-mailed a PDF-document with pics of the Treen desmo (see "Systems" also) revealing much of the very desmo-system (digi-pics expected).
Italian agent Andrea Ridolfi did send two great factory drawings revealing many technical details including the desmo-system from the Maserati V-8.

A certain Mr. Lau Foo Wah directed me to a very interesting site http://www.chlvalve.com.hk . Here you can see the results in text; pics; animation and video of a Chinese (Hong Kong) desmo-project.

After 15 years the Velocette desmo quest finally is completed. Most of the parts were found via (the site of) Les Vandever: http://www.triumphchoppers.com/for_sale/list.htm and are from the old stock of BHB (from the famous advertisement). The valves; collets; valve guides and the two gears are from other sources. See the two small pics of the finished wooden modell.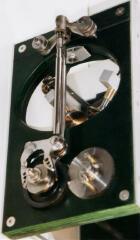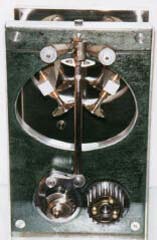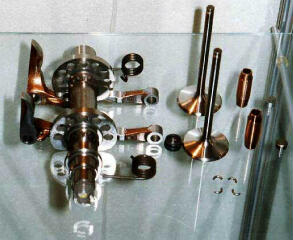 This year I hope to add at least one of the four new Ducati heads to my collection. From the Testastretta I already produced an acrylic perspex modell consisting of one half of the parts (see pic of inlet parts only). More digipics of the complete modell will follow ("photo3"). It will be hard, if not impossible to lay my hands on the desmosedici head. After the two-valve air cooled 1000 Twin Spark, Ducati also launched the the new liquid cooled SOHC three-valve Desmotre-generation. Another proof that the Desmo-principle is alive and kicking!

Last update: November 4, 2003